Réparation de fissure
FISSURE & DRAIN LAVAL specializes in foundation crack repair. If your concrete foundation has undergone alterations, we can help you with water, moisture or mold infiltration problems in your basement. Our experienced technicians will quickly intervene and offer an impeccable and permanent crack repair service.
We will verify the concrete condition and examine the cracks carefully. We will seal the cracks (from inside or outside, as the case may be) with polyurethane, which will be injected into the cracks. The polyurethane fills the crack forming a stretchable and waterproof gel. We inject the product with a hydraulic pump deep into the concrete foundation. In addition, if necessary, we can reinforce the foundation walls with steel anchors.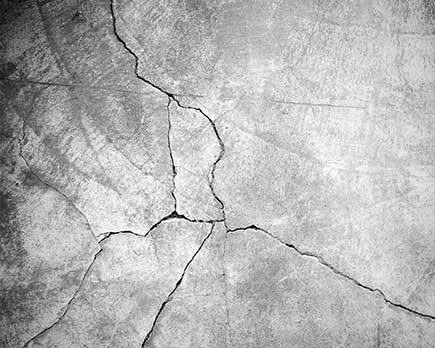 Crack repair and water repellent membrane installation
To protect your concrete foundation, our team will be able to install a waterproof membrane and a DELTA-MS drainage panel on your external foundation walls, to waterproof them and prevent water from infiltrating the concrete walls. The membrane protects the concrete wall from the base of the foundation up to the ground.
Crack repair and foundation repair
FISSURE & DRAIN LAVAL has a contractor license specialized in accordance with the rules of the Régie du bâtiment du Québec. Our team can therefore carry out all the excavation and construction work required to your foundation.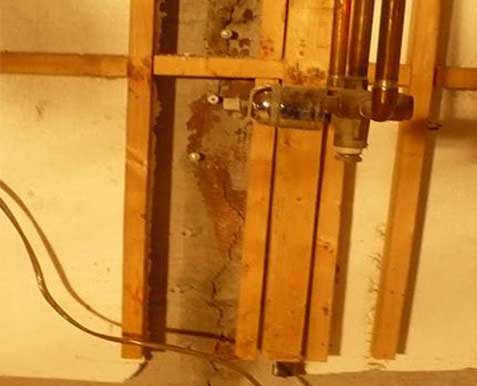 Crack repair in Laval, Mirabel and on the North Shore
Contact the FISSURE & DRAIN LAVAL team for a crack repair in Laval, Mirabel and in all North Shore municipalities. We will be able to inspect your foundation and propose solutions to solve your problems of water infiltration or weakened concrete.
We operate quickly for a foundation crack repair and for any other foundation concrete strenghtening work. FISSURE & DRAIN LAVAL offers quality work that will permanently strenghten your foundations.
We recommend that exposed foundation cracks be repaired to prevent water infiltration and a worsening of the problem during the freeze-thaw cycle. An unrepaired crack represents a risk of water infiltration.