Utility of a French drain
A French drain is very important to keep rainwater away from foundations. This drainage system prevents water infiltration under the footings or between the footings and the foundation. Pipes are placed underground and operate with a pump that drains the water away from the house. The pipe system can be laid on a slight slope to facilitate the natural flow of water.
If you see water accumulating above ground near your foundation, or if your basement contains mould or high humidity, it is probably because your French drain is no longer functioning properly.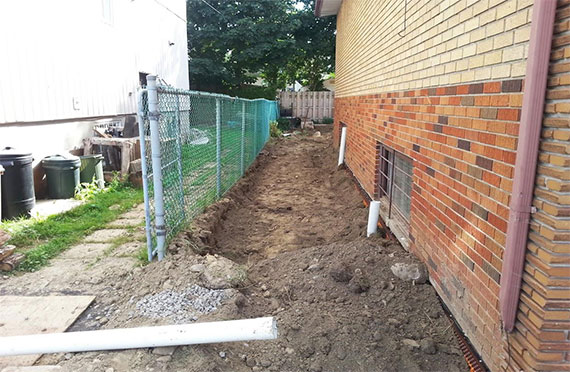 French drain installation
Before we proceed with the excavation that will allow us to install a new French drain, we will have to find the place which is most flooded with ground water. We will also need to identify if there are underground facilities, and then determine the position that the pipes will take to provide the best drainage.
We will then proceed to the excavation near the foundations. We will prepare the trench to install the French drain in perforated B.N.Q. pipes at the foot of the foundation, with ¾ net crushed stone (5-15cm). We then install the French drain and the stones, as well as a geotextile membrane that will protect it. Then we add the final fill with the existing soil. FISSURE & DRAIN LAVAL uses only top quality products to ensure the durability and efficiency of the installation.
The function of the foundation drain is to remove water pressure on the foundations. If there is an accumulation of water in the soil, pressure on the foundation is created which results in water infiltration. On the other hand, the absence of drain does not automatically create a moisture problem. Most properties do not have a functional drain and yet the problems of excessive mould in the basement remain minor. The slopes of the ground, the type of soil, the depth of the foundations, the presence of a water-repellent coating, concrete quality are each important factors that help to keep the foundations dry.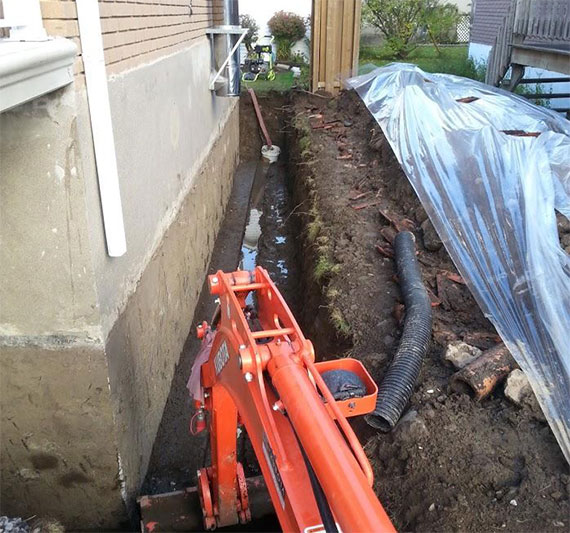 Inspection of the French drain by camera
Before you change or repair your French drain, we can inspect the pipes with a camera to see if they are clogged, perforated or blocked with mud, gravel or ferrous ocher. At the same time, we will be able to check if the textile membrane surrounding the French drain is covered with mud, which would prevent the water from flowing. We will also ensure that the French drain has not been installed on the footing by mistake. If your French drain is broken, we can repair or replace it if it is damaged beyond repair.
French Drain in Laval, Mirabel and the entire North Shore
Contact us for an inspection of your French drain by camera. If your basement shows traces of water infiltration, moisture and traces of mold, don't wait any longer! The team of FISSURE & DRAIN LAVAL serves Laval, Mirabel and all the North Shore.