FOUNDATION WATERPROOFING
Foundation waterproofing is very important since it effeciently protects the concrete of your foundation. A foundation waterproofing also repels moisture and mold while preventing cracks in the concrete. When snow melts in spring, houses whose foundations are built on groundwater rising in the soil, are particularly at risk. Water pressure builds up in the soil, which swells and pushes on the foundation concrete, resulting in cracks that may lead to water infiltration and flooding.
Different products are used for foundation concrete waterproofing. Some waterproofing membranes are not really effecient and tear up. At FISSURE & DRAIN LAVAL, we only use high quality products to ensure that your foundation waterproofing will be efficient, strong and durable.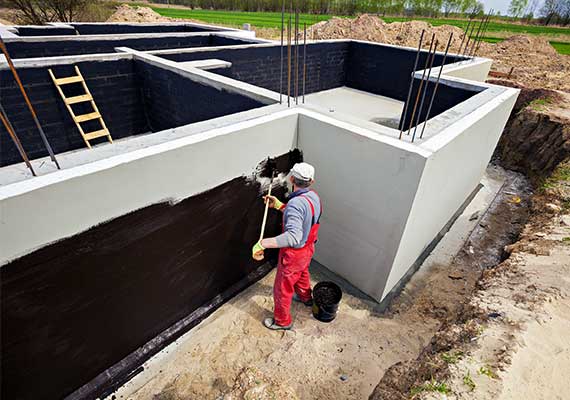 Foundation waterproofing with membrane
To achieve a durable foundation waterproofing, we use a liquid waterproofing membrane for better adhesion to foundations and install a DELTA-MS drainage panel made of polyethylene, which has a high impact resistance and is non-deformable. We first excavate around the foundation to gain access to the entire surface of the concrete. We then cover the foundation concrete with a water-repellent rubber-based membrane and install the DELTA-MS panel. We can, depending on your needs, install a thick rigid insulation.
The Delta M.S membrane provides full sealing protection. It plays a protective role during the backfilling of the excavation. Even if stone or construction waste is pressed against the protruding membrane, the membrane isn't ruptured. The membrane also provides a form of thermal insulation.
Foundation waterproofing and concrete repair
Most owners have a waterproofing membrane installed to waterproof their foundation because they have problems with water infiltration, cracks, moisture and mold in the basement. We are specialists in repairing cracks and strenghtening concrete foundation. We can ensure that all the cracks are sealed, and then we can strenghten the larger cracks by adding a metal plate.If you have doubts about the proper functioning of your French drain, we will be able to inspect the pipes with a camera and correct the problem, if necessary.
Waterproofing foundation in Laval, Mirabel and on the North Shore
Contact the FISSURE & DRAIN LAVAL team for professional foundation waterproofing services in Laval, Mirabel and on the North Shore. We will be pleased to explain in detail the steps necessary to waterproof a foundation. Your foundation concrete will finally be protected from rising water that seep into your basement! Take advantage of a free estimate!