FOUNDATION CRACKS
Foundation cracks usually appear during the spring thaw. Pressure from water in the soil can cause cracks in the foundation concrete. A foundation crack gives in under the pressure and cause the water to seep into your basement. This does not mean that your foundation concrete is necessarily of poor quality. Normal wear and tear can make concrete more fragile and it is necessary to seal these cracks to strenghten it. There is also a need for better water drainage.
The team of FISSURE & DRAIN LAVAL can either repair the cracks from inside or outside. On the exterior foundation concrete, we can seal the crack and cover it with a waterproof membrane and a DELTA-MS drainage panel made of polyethylene, which has a high resistance to shocks, while being non-deformable. We will, if desired, install a DELTA-MS waterproof membrane all around your foundations to ensure that your concrete will be better protected for years to come.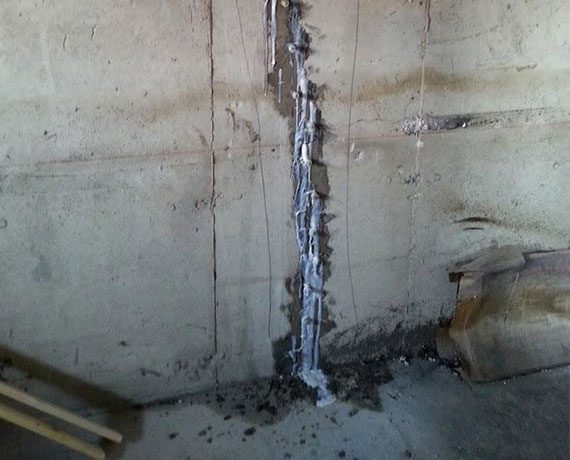 Passive and active foundation cracks
There are two types of foundation cracks:
The very large active foundation crack is caused by inadequate drainage, frozen soil uplift, or collapsing soil. An active-type foundation crack can cause significant damage to the foundation concrete. These large cracks never cease to grow unless they are repaired. The installation of piles to strenghten the foundation walls is strongly recommended.
Passive foundation cracks are less hazardous to foundation concrete. This type of foundation crack stops growing after a year or two, but it must nevertheless be repaired because it weakens the structure of the foundation.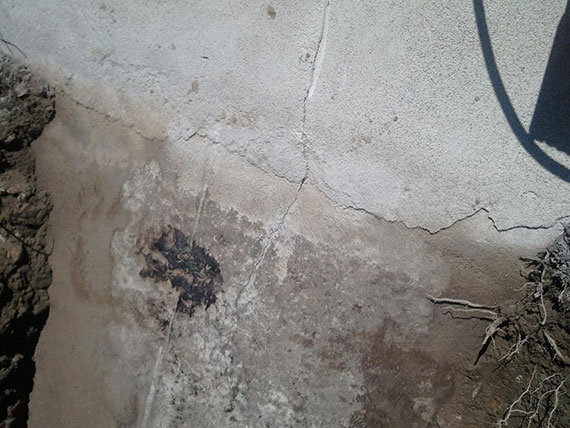 Why does a foundation crack appear?
The causes of the appearance of a foundation crack are numerous: poor quality or concrete wear; sealing membrane wear(or absence of membrane); French drain wear (or French drain absent); French drain blocked by deposits of iron ocher; roots of trees that force the foundation concrete, ineffecient gutters ...
It can also be a soil problem: the foundation is lifted by the freezing of the soil; differential settlement due to inadequate foundations; poor bearing capacity of the soil; clay soil; soil too dry; pyrite in the fill under the slab ... It is by establishing the cause of the foundation cracks that we can determine what needs to be done to solve the problem.
How to prevent a foundation crack
To prevent foundation cracks, several methods are effecient:
Install a water repellent membrane on the foundation concrete.

Install a French drain.

Maintain a downward slope by adding soil around the foundation of the house, so that rainwater moves away from it.

Install new gutters and downspouts to project water away from foundations.
Foundation crack in Laval, Mirabel and on the North Shore
Contact the FISSURE & DRAIN LAVAL team for a foundation crack problem in Laval, Mirabel and in all North Shore municipalities. We will act swiftly for a foundation crack repair or for other foundation concrete strenghtening work.